Is the burden of information and communication overload dragging you down? Is your
to-do list
growing longer?
Do you feel overworked, overwhelmed, stressed, and exhausted by the end of the day?
Would you like to be more focused, productive, and competitive, while remaining balanced and in control?
If you're facing too much information, too much paper, too many interruptions, too many commitments and demands of all types, you need
Breathing Space
, as do your staff, your organization, your family… everyone who holds a position of responsibility.
What if your staff could develop…
A keener focus for finding solutions to constant time pressure?
A greater sense of motivation and inspiration?
A stronger sense of teamwork to tackle more tasks more easily?
A fresher perspective on work, rest, productivity, and taking action?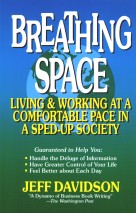 Does this sound unattainable? Discover for yourself what 806 audiences, spanning more than two decades, have learned: Jeff's
Breathing Space
keynote speeches and breakout session presentations arm you with simple but powerful techniques that enhance your career and your life. You will learn how to master the art of:
As an inspiring, innovative professional speaker with expertise in all aspects of work-life balance, Jeff offers unique and customized presentations to help you Manage the Pace with Grace® and Prosper in a World of Rapid Change. Jeff Davidson can supercharge the way you and your team approach your day, week, month, and year.
Jeff is a highly productive individual. He walks the talk and ensures that he has
breathing space
every day. Jeff has inspired thousands with his humorous, energetic, riveting presentations, and extraordinary breadth of knowledge. It's no surprise that Jeff has been featured multiple times in the
New York Times
,
Washington Post
,
Chicago Tribune
,
Los Angeles Times
, and
USA Today
, and on top TV and radio talk shows.
To take the next step and learn more about how Jeff Davidson can supercharge your group to take action and to achieve a level of work-life balance that benefits everyone, call 800-735-1994.
From the back jacket of Breathing Space:
"Time is the ultimate 'equal opportunity employer.' Jeff Davidson shows us how to master it in Breathing Space."
— Denis Waitley, author, The Psychology of Winning
"Apply some simple Breathing Space principles and see how much more you accomplish in a day — and how much more you enjoy it."
— Pat Piper, former producer of The Larry King Show